Lester William Polfuss (Les Paul to most of us) was experimenting in his Mahwah apartment in the 1940s and eventually invented:
Les Paul invented the solid body electric guitar. The Gibson Les Paul sells for $6,500 at the Rock and Roll Hall of Fame store in Cleveland.
Until nursery school teacher Kay Zufall of Dover had the brainstorm to come up with Play-Doh, the product it grew out of was originally used as:
Kay suggested turning the non-toxic cleaner, manufactured by her brother-in-law, into what became one of the most popular toys of all time.
Samuel Leeds Allen lived in __________ when he developed the iconic Flexible Flyer sled:
Allen thought up the sled as something to keep his farm equipment manufacturing company busy during the off-season.
From 1968 to 1983, Knickerbocker Toys were made in Middlesex; which of the following stuffed toys was NOT made in their Middlesex County factory?
Knickerbocker made Holly Hobbie, Raggedy Ann and Raggedy Andy, Curious George, Snoopy and Cookie Monster in Middlesex; Winnie the Pooh was licensed to another company.
Scientists at Bell Labs in Murray Hill Invented this in 1941, and it remains virtually unchanged to this day:
Industrial psychologist John Karlin worked out the configuration of the company's new push-button pad for telephones, the same layout as is in use today.
Whether you call it Taylor Ham or pork roll, it's a New Jersey staple and was invented in New Jersey. Which of these foods has the LEAST number of calories in a serving of 1½ ounces?
The sausage links have 127 calories for that serving size; pork roll comes in at 130 calories, fries at 136 and M&Ms at 213.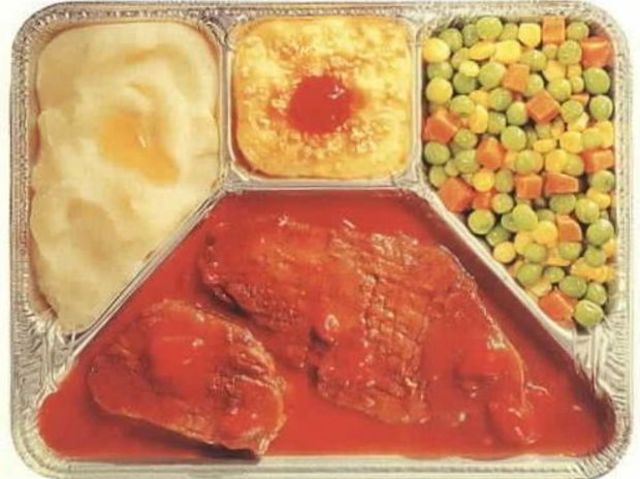 TV dinners were the brainchild of William Maxson who set up a company to make prepared frozen dinners in West Orange in 1935. Which of the following was the first TV dinner marketed by Swanson in 1953?
Turkey, with side compartments of mashed potatoes and carrots or peas, was the first offering. Desserts, very often a kind of cobbler, were added in 1960.
The Annin Flag Company in Verona made the American Flag that:
Annin also made the flags that first flew at the North and South poles, at Iwo Jima and atop the World Trade Center.
For years, Lionel Trains were manufactured in Hillside. What is/are the most valuable Lionel train car(s)?
According to collectibles.answers.com, 420, 421 and 422 Blue Comet cars sell for $3,200 each in near-mint condition.
Wheaton Glass began making commemorative decanters in Millville in 1967. One of the following people never appeared on a commemorative Wheaton Bottle:
Wheaton's presidential series ended with George H.W. Bush. Graham was featured as one of the Famous Americans series.
Congratulations! You got: