Create Your Own Ranked List
Anyone can create on Playbuzz
H. Armstrong Roberts / Getty
Simple as: you say something you've never done, and anyone who's done it has to drink.

Innocent enough, until it starts getting targetted. "Never have I ever... refused to do the washing up", with a glance to Megan.

"Never have I ever... thrown up on someone in bed", Megan shuffles in her chair.

"Never have I ever... slept with me and ghosted my texts, Megan."

Megan's having an awful time and it's getting really awkward.
Roger Kisby / Getty
The classic. You've seen movies. Throw a ball in a cup, drink from the cup.
Joe Raedle / Getty
The rugby lad's bread and butter. Every time you drink a can, tape it on to your arm, like a big wand. If it falls off, you have to drink loads more.

This is definitely just drinking for the sake of it, so obviously you'll feel sick in about five minutes.
YOSHIKAZU TSUNO / Getty
Start off with a large cup, and a pack of cards. Lay the cards around the cup in a ring, and pick up cards which result in mini drinking games: 2 is you, 3 is me, 4 is whores. If you get 8 you pick a mate. These games are basically just rapid sipping, until an Ace is pulled - then you pour some of your drink into the large cup - fourth ace drinks the cocktail.

It's slow paced so it's a great option for sobering everyone up, with the collateral damage of like: whoever loses is out for the night.
PYMCA / Getty
Whisper a question to the person on your right and they have to answer it with the name of someone there. If they want to know what the question is, they have to finish their drink. If not, everyone drinks.

This is a fun game when it's like: "Who's the kindest boy?" "Kevin!" but it always ends in tears when you're off-your-face drunk and you know all your mates think you have weird nipples.
H. Armstrong Roberts / Getty
This is the most confusing game in the world, and nobody is sure of the rules. You say "Fuzzy Duck" to someone, and they say "Does he?" and then mayhem ensues. Nobody gets this right. It's a disaster.
Sandra Mu / Getty
Imagine Jenga, a game nobody enjoys: but with even more rules.

That's right, welcome to Drunk Jenga: the two-player game for people who enjoy silence and concentration when they are drunk.
UniversalImagesGroup / Getty
If someone successfully bounces a penny off the table and into your drink, you have to down it. Not much to this one. Up to you if you follow the rules, nobody's enforcing them.
Bert Hardy / Getty
Take it in turns to count up to 21, and each time you hit 21 make a new rule - instead of saying 6 you Moo like a cow, for example. If someone does it wrong or goes too slow, they drink.

This is less about getting shamefully drunk and more about getting a firm handle on which of your friends are already drunk, and therefore incapable of carrying off that tricky "Moo-woof-meow" combo.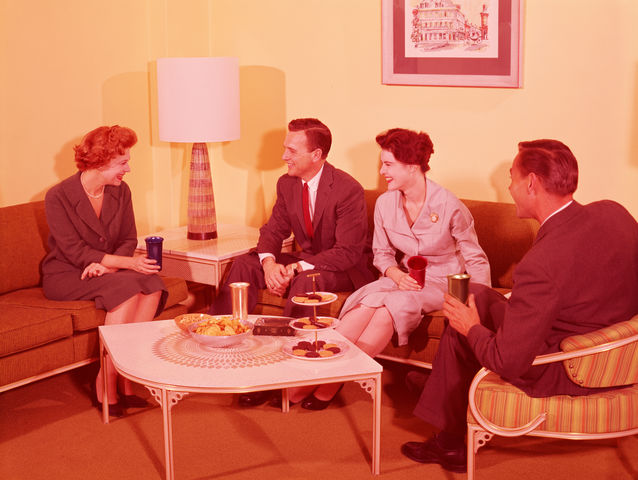 H. Armstrong Roberts / Getty
Would You Rather, like what you played when you were thirteen and fancied someone and wanted a really contrived way of letting them know, but the difference is: Oh! There's no difference. There's literally none.

You're still going to use it to talk about your sexy bits at any available opportunity. You're still thirteen.