Getty
Getty
LeBron James gave a Finals MVP performance in bringing a first championship to Cleveland in 50 years, but who scored the final points of Game 7?
Getty
Getty
Fittingly, LeBron scored the final point, a free throw with 10 seconds remaining, after the teams combined to make just one field goal in the final four and a half minutes of a tense struggle.
Getty
Getty
Superfish Michael Phelps capped a phenomenal Olympic career at Rio 2016. In what event did he win his 23rd and final Olympic gold medal?
Getty
Getty
Phelps added five golds and a silver at Rio 2016 - in his final Olympic race he helped the US team to victory in the 4x100m medley relay.
Getty
Getty
Which future Hall of Fame quarterback won a Super Bowl title in his final NFL game early in 2016?
Getty
Getty
Manning bounced back from injury to quarterback the Denver Broncos to victory over the Panthers
Getty
Getty
Which team halted the rugby world champion All Blacks record 18-game winning streak this year?
Getty
Getty
The week after the Cubs broke a 108-year drought, Ireland upset the All Blacks in Chicago, ending a 111-year losing streak against New Zealand.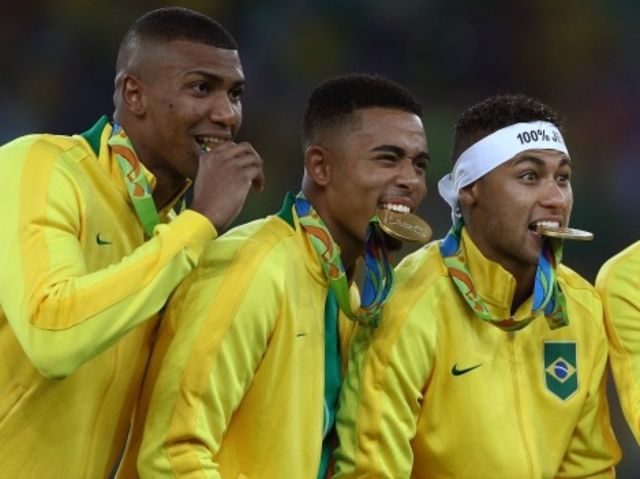 Getty
Getty
Brazil, five-time FIFA World Cup champions, added to their football (soccer) legacy at Rio 2016 by winning Olympic gold for the _______ time?
Getty
Getty
Neymar Jr secured Brazil its first-ever Olympic gold when he scored in the penalty shootout in front of 100,000 screaming fans at the Maracana.
Getty
Getty
At which Grand Slam in 2016 did Serena Williams finally tie Steffi Graf with her record 22nd title?
Getty
Getty
Williams defeated Angelique Kerber, who won 2 Slams herself in 2016 and took the #1 ranking, at Wimbledon to tie Graf atop the Open era.
Getty
Getty
Which team added another Stanley Cup title to its legacy in this year's finals?
Getty
Getty
Superstar Sidney Crosby led his Penguins team-mates to defeat the San Jose Sharks in six games.
Getty
Getty
Leicester City were surprise first-time winners of the Premier League this year. What chance did bookies famously give them to start the season?
Getty
Getty
Leicester City were among the favorites for relegation, but 5000-1 outsiders to win the title.
Getty
Getty
In which event were Nikki Hamblin and Abbey D'Agostino competing when they tripped and fell, creating an iconic moment from the Rio Games?
Getty
Getty
Hamblin and D'Agostino were widely praised, and received a 'fair play' award, for their actions in the 5,000m after they accidentally collided.
Getty
Getty
Which Chicago Cub won the World Series MVP award after his team came back to win the title and break a 108-year championship drought?
Getty
Getty
Versatile second baseman Zobrist, who also won the World Series in 2015 with Kansas City, won the MVP award after hitting .357 and the go-ahead run
Congratulations! You got: