Which haunted doll has caused some real $#!+?
www.oddee.com
www.oddee.com
This is the actual doll behind the Annabelle we've all grown to fear on film. In the 70s, two college roommates who got it from a thrift store, found it doing some super creepy stuff, including attacking one of their friends, and eventually found out that it was possessed by a demon and not the spirit of a dead child like they had originally been told. Go figure.
Which painting is definitely a portal to Hell?
www.oddee.com
www.oddee.com
Titled "The Hands Resist Him," this painting has been known to cause screaming, fainting, and death. Many who have owned it have died within a year of purchase, and others have reported seeing the painting move, the creepy child in the painting leaving it at night to enter the room, feeling like they were being grabbed by many hands while viewing the painting, or a blast of hot air coming from the painting, like an oven opening.
Which chest is full of a whole lotta supernatural NOPE?
lovelace-media.imgix.net
lovelace-media.imgix.net
Basically, this Dibbuk Box contains a Jewish demon that will haunt and possess you and cause your mother to have a stroke.
Which mirror 100% reflects the grisly images of the dead?
www.oddee.com
www.oddee.com
This creepy mirror is located at Myrtles Plantation, a bed and breakfast frequently called the most haunted home in the U.S. Because it wasn't covered like custom dictates after the poisoning deaths of Sarah Woodruff and her children, the mirror is said to contain their spirits, often showing child-sized handprints and their shadowy figures.
Which of these statues is Too SpookyTM?
www.oddee.com
www.oddee.com
This 5500 year old statue was discovered in the 1870s, and while it resembles a lot of fertility idols of its day, it has been nicknamed instead "The Goddess of Death," because within seven years of ownership, the owners and their entire families have all perished mysteriously. This includes the first museum curator to bring it into the Royal Scottish Museum in Edinburgh
Which vase/urn is totally no good?
darkhauntings.files.wordpress.com
darkhauntings.files.wordpress.com
Originally made of silver for a bride on her wedding, she was found dying on her wedding night, clutching the vase and swearing revenge. It was passed between family members who were all killed by the vase after that, and eventually it just had to be buried because not even museums would take it.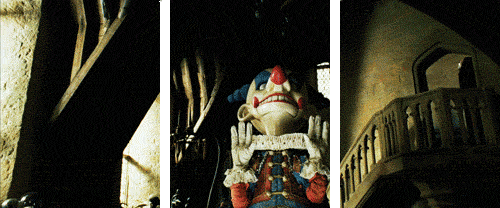 All of these things are horrifying, but which one is actually supernaturally homicidal?
www.oddee.com
www.oddee.com
This creepy doll was given to a child in 1896 by a household servant who disliked him and practiced dark magic. Basically, this is your typical creepy doll tale. The doll started moving on its own, talking back to the kid, and eventually had to be locked in the attic. When it was found by another child in the 70s, she was instantly afraid of it, saying it wanted to kill her. The doll now resides in a museum, but it can still curse you if you take its picture without asking its permission first.
Which of these sparkling death necklaces is actually supposed to be cursed?
www.telemundo.com
www.telemundo.com
The Black Orlov diamond, or "the eye of Brahma," was supposedly cursed when it was stolen from a statue of the Hindu god Brahma by a monk. Since then, three of its owners have all jumped to their deaths, but after two years of recutting and replacing the diamond in a new setting, it has since been worn harmlessly, even on the red carpet.
Which of these scary cars would give Christine a run for her money?
i.kinja-img.com
i.kinja-img.com
The car that killed James Dean, nicknamed "Little Bastard," is just inexplicably one of the most cursed vehicles of all time. After killing Dean in a car accident that has yet to be figured out, some of its parts went to other cars while the body remained with the man who customized it. This car and cars that used its parts have severely injured or killed more than a dozen more people and has caused mysterious fires. Eventually it mysteriously vanished.
Which of these wedding dresses will make you an actual corpse bride?
www.oddee.com
www.oddee.com
Anna Baker was supposed to wear this wedding dress, but her father drove her low-class love out of town. She never fell in love again or married. After her death the Baker home, now a museum, bought this dress and placed it in a glass display. In spite of its encasing, however, it is sometimes seen swaying from side to side on its own, like a bride is admiring herself in it.
Which of these chairs is most likely to start rocking itself in the middle of the night?
www.oddee.com
www.oddee.com
The Busby-Stoop Chair was cursed by a man finishing his last meal before execution. Anyone who has sat in it since has been doomed to certain death. During World War II, people would dare each other to sit in it, and the soldiers who did never made it back from war. The chair went on to kill anyone who managed to take a seat and even a cleaning lady who fell into it on accident. Now, it hangs five feet in the air in a museum so no one else can ever take a seat.
Congratulations! You got: