Create Your Own Ranked List
Anyone can create on Playbuzz
Getty
They're always in contention, and with Tom Brady on a tear after coming back from his Deflategate suspension, and homefield throughout the AFC, the Pats will be hard to stop.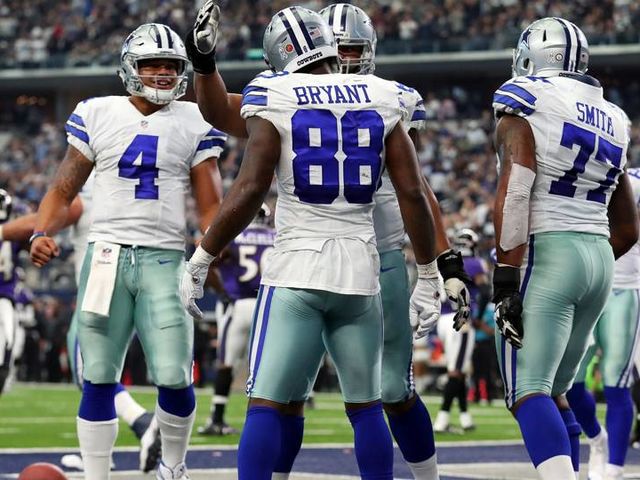 Getty
They've looked Super Bowl bound all season, corralling a 13-3 record and top seed behind a dominant O-Line and two star rookies. But are they an accident waiting to happen?
Getty
Ben Roethlisberger has twice led the Steelers to Super Bowl victories, and with weapons like Antonio Brown and Le'Veon Bell, theses Steelers can match points with anyone.
Getty
The Packers come into the playoffs hot, having had to run the table after a 4-6 start that raised many questions about the team and star quarterback Aaron Rodgers.
Getty
They're back.... those Giants who seem to either miss the playoffs, or go the whole way regardless of seed. Can Eli and his team shock the world again from the wildcard?
Getty
Matty Ice and the Falcons offense has been on fire this year, racking up the points on the way to the #2 seed in the NFC. But can the points party continue as games get tighter?
Getty
The Legion of Boom's aura of invincibility has slipped, but with Russell Wilson, a still-stellar defense, and unfinished business from two years ago, would you bet against them?
Getty
The Chiefs flew under the radar to the AFC's #2 seed with a stout defense, key turnovers, and mistake-free play - the kind of football that translates well into playoff victories.
Getty
The Raiders seemed ahead of schedule on a long-awaited resurgence this year, but with Derek Carr going down and rookie Connor Cook starting, will the good times keep rolling?
Getty
The Texans will have to do something they've never done in the playoffs (beat someone other than the Bengals) to even advance past the wildcard round. Then again, last year was a year of unlikely champions and underdog winners...
Getty
The Dolphins return to the playoffs after a lengthy absence, but seem a team on the rise. Can they sneak under the radar against favored opposition and shock the football world?
Getty
The Lions are riding the NFL's all-time record playoff losing streak (8 games), but with Matt Stafford slinging it at an MVP-level this season, could they break through in 2017?